Surat House : Muted Colours, Textures & Materials Define This Home
Written by Rashmi Haralalka
Ankit Sojitra and Mayur Mangukia, co-founders of Studio 17, were asked to build a house that was modern with a sensible design scheme. "The homeowners wanted a very subtle and quiet home - nothing more, nothing less! They wanted interiors with an inflection of
muted colors
- something that resonates with their personality.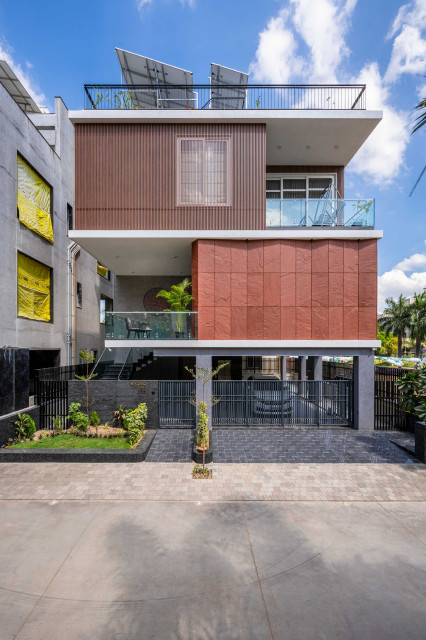 Studio 17

Who lives here: A family of seven
Location: Surat, Gujarat
Year: 2020
Size: 430 square meters (4630 square feet); 5 bedrooms and 6 bathrooms
Architecture and design firm: Studio 17

Photos by Noaidwin Studio | Nilkanth Bharucha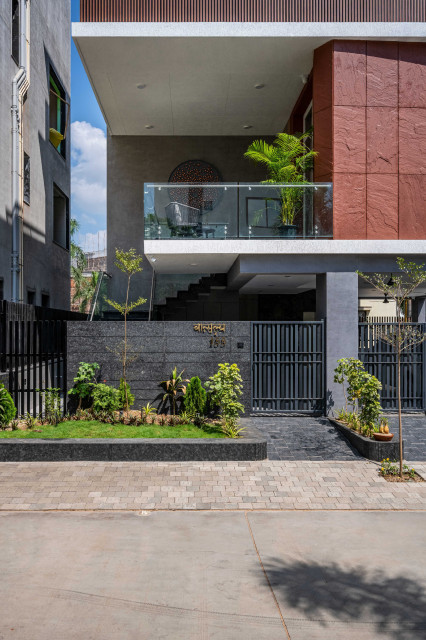 Studio 17
According to the designers, the synergy of angles, corners, and lines gives the facade three-dimensional depth and makes it one of the most interesting features of the house. The two cube-shaped layouts give a sense of balance equal to the architecture and create a dynamic exterior. The Red Agra stone prevents harsh sunlight from entering the house and keeps the interiors cool. Aluminum fringes bring in privacy and offset the vibrant foliage flanking the main doorway.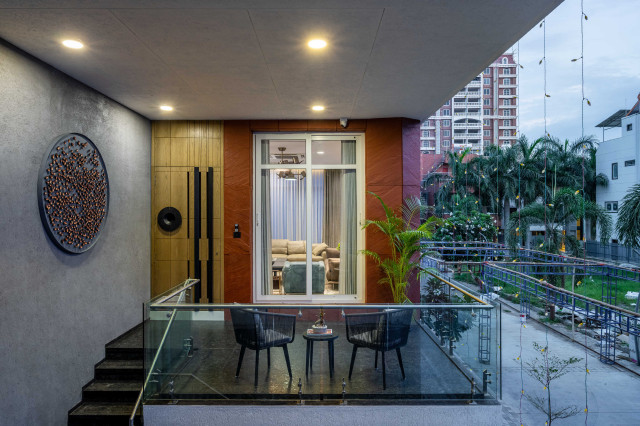 Studio 17
The entrance of the house is from the first floor. Here, a seating area, curios, and artwork embellish an inviting foyer. The soil of the gray textured walls is offset by the red stone and the vibrant orange color of the artwork. Coated in black metal, the circular door handle and vertical accents add character to space.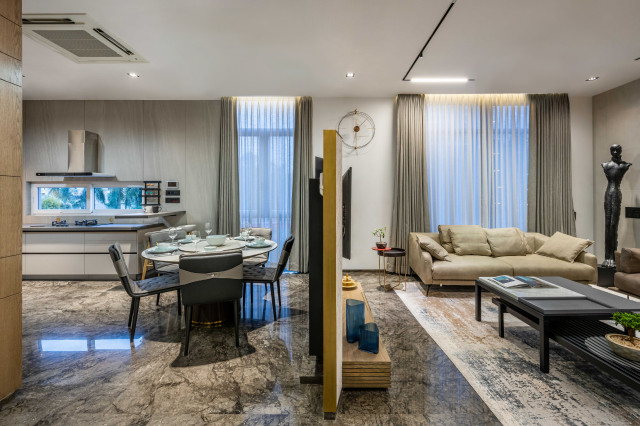 Studio 17
"As soon as someone enters the house, they are greeted by an open living and dining area divided by a free-living TV unit. William Gray Italian marble with golden veins adorns the floor.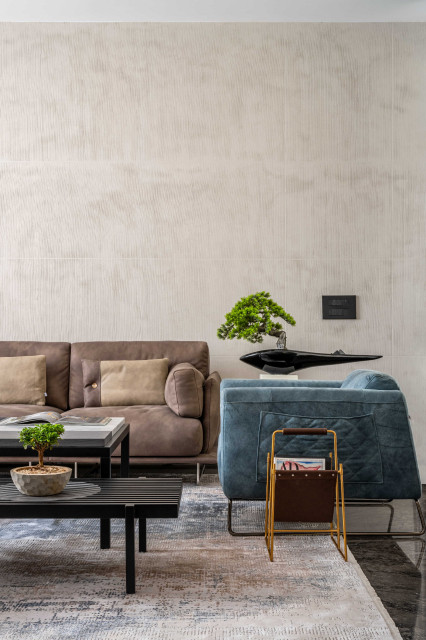 Studio 17
The sofa is covered in shades of nude and is luxurious sitting on a blue chair.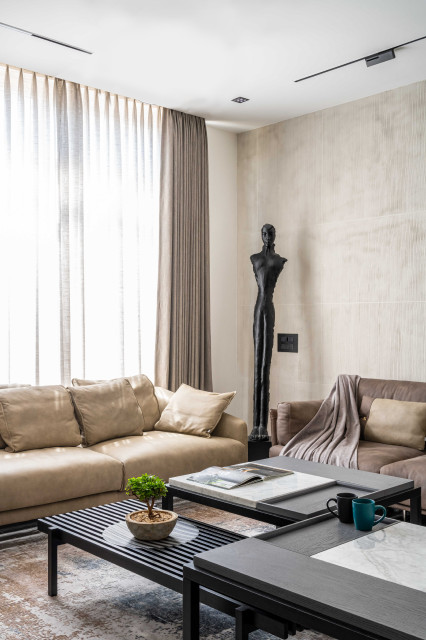 Studio 17
Coffee tables take the room to the center level, while porch porches and a statue in the corner add grace and vitality.

Paint: Asian Paints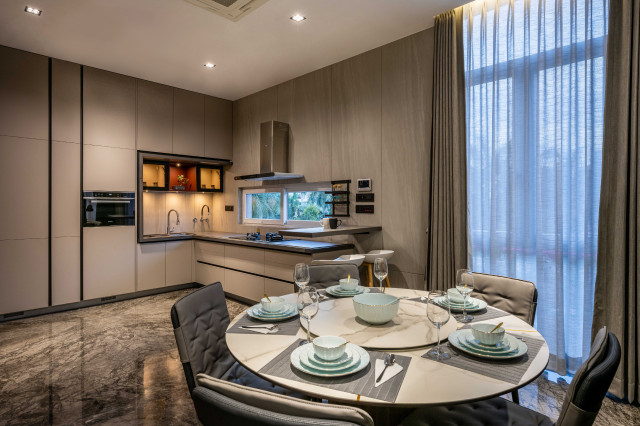 Studio 17
There is a circular dining table in the center between the living room and an L-shaped open kitchen. The brown marble and nude interiors give continuity to the color palette.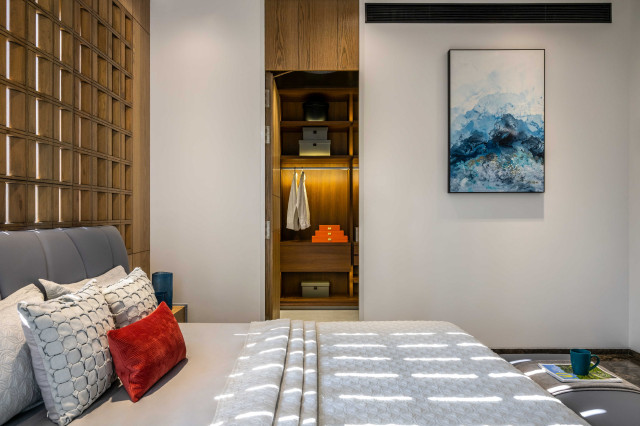 Studio 17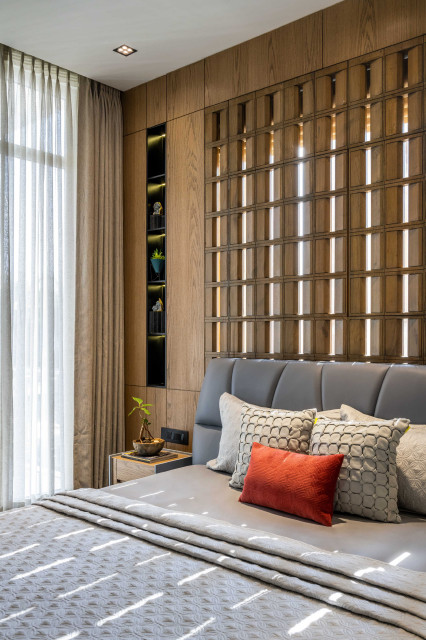 Studio 17
There are three bedrooms on the upper level. This master bedroom has a screened headboard behind the bed that steals attention.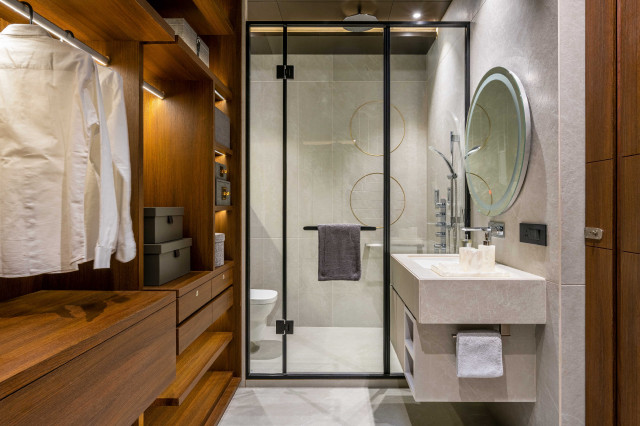 Studio 17
In this forthcoming, the warm notes of the wooden cupboard extract the off-white marble juice.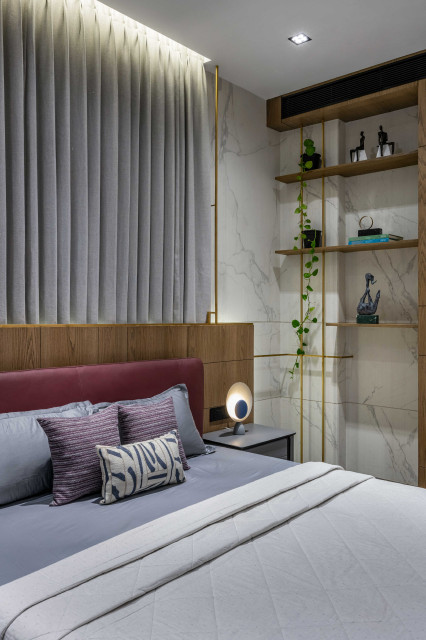 Studio 17
In the second bedroom, an upholstered headboard and brass accents on the wall bring in subtle luxury. The bed back is made of stained ash-dye veneer. Place open cabinets on the side of the bed to display the bedsheet.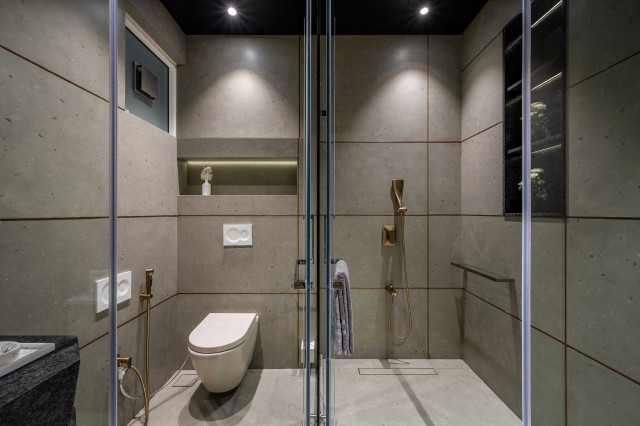 Studio 17
The brass inlay pops in the tiles and taps add glamor to space.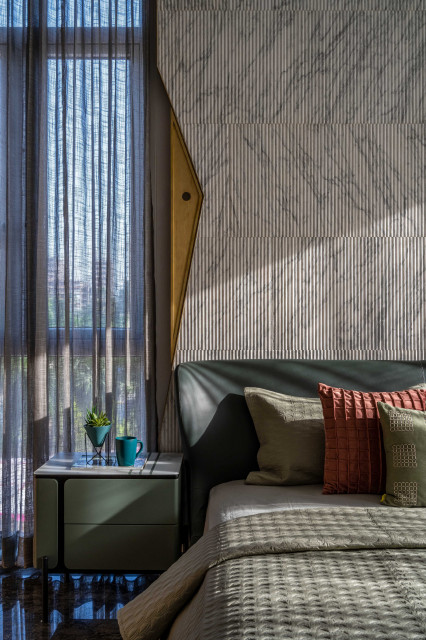 Studio 17
In this bedroom, raised lines of white marble break the uniformity of the flat surface.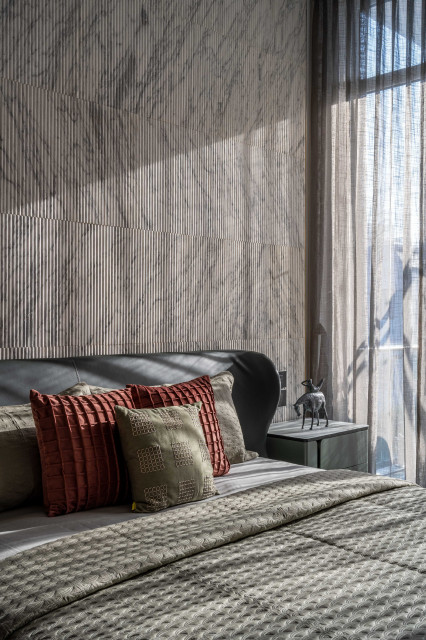 Studio 17
The bed has a covering headboard in green color to complement the side table.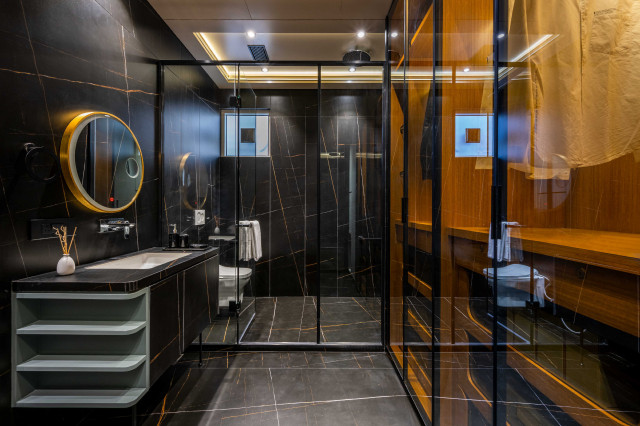 Studio 17
In contrast to the bedroom muted hues, pure black stone with golden and gray veins in the Ensuite bathroom oozes luxury. Reflective glass on the cupboard creates the illusion of a large space.
Source: https://www.houzz.in/magazine/surat-houzz-muted-colours-textures-and-materials-define-this-home-stsetivw-vs~146008611